10KV cold shrink cable accessory terminal

The cold shrinkable cable accessory terminal is made of imported silicone rubber material. 10KV cold shrink cable accessory terminal not only has excellent electrical properties, but also has excellent physical properties such as water-improving, high elasticity, long service life and constant shrinkage pressure. The 10KV cold shrink cable accessory terminal does not require an open flame and special tools. It only needs to gently extract the plastic support bar, and it can automatically shrink and reset, which is very convenient to install.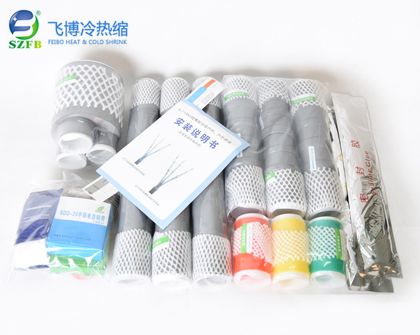 Product advantages:
1, No need to fire and special tools, nor gradually into the trouble, just gently extract the core rope, will rely on their own elastic retraction.
2, The installation is simple, the operation of the technical dependence is low, easy to master.
3, The use of imported liquid silicone rubber to ensure excellent insulation and high flexibility, the installation of the cable body has always been to maintain a constant radial pressure, partial discharge small.
4, Widely used in low-voltage cable terminal processing;
5, To maintain a constant tightening force, to ensure excellent interface characteristics.
6, Advanced production technology, vacuum high pressure injection vulcanization molding.




As a professional heat shrinkable tube supplier, we have enough storage for different inquiry , and we still keep researching and developing for the heat shrinkable tube to make the quality better and better.

Our advantages:
Honest Service Innovation Development

For our good quality and good service ,we have got many customers' trust and local government's reward,which are listed as follows.



SUZHOU FEIBO HEAT & COLD SHRINKABLE PRODUCTS CO.,LTD.

Suzhou FeiBo heat shrink products Ltd is Jiangsu provincial high-tech enterprise, the company has strong technical strength, with a number of excellent material formulation and process development research professionals, and equipped with advanced production testing, process control and full range of facilities, has become one of the leading material manufacturers.

Main products: Heat Shrinkable Tube, Heat Shrinkable Cable Accessories,Cable Intermediate Connection,Etc.



Contacts:Miss Ren
Mobi:+86 13013866728
Tele:0086-0512-63339531
Fax: 0086-0512-63206968
Skype:+8613013866728
Web:www.fblrs.com
Address:No. 2848,Jinxin Road,Jinjiaba Town, Wujiang District of Suzhou City,Jiangsu Province, China.